Tsar Network to Reinvent the Blockchain Experience with its Simpler, Faster & Secure Platform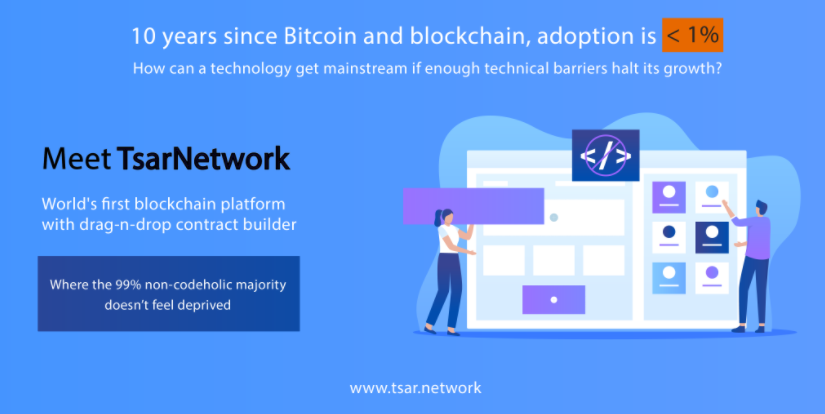 London, UK, 24 Sep 2021, ZEXPRWIRE, TsarNetwork has proudly announced the recent publication of its white paper to introduce the world to the all-new, game-changing digital financial platform. Aiming to demystify blockchain and cryptocurrencies, TsarNetwork has been developed as an inclusive, no-barrier, blockchain-based ecosystem for techies and non-techies alike. The platform is presently welcoming everyone to invest in the future of custom smart contracts. According to the co-founder of TsarNetwork, Lucia Cermakova, the blockchain technology has only realized a fraction of its true potential. This new digital financial network will focus on real-world applications of blockchain technology, making it accessible for all.
"The booming, trillion-dollar blockchain industry has over-promised but under-delivered. Only a handful of people have access to blockchain technology and an understanding of it," said CEO, Natalie M. Webb, while talking about the state of current blockchain networks and platforms. "In a race to achieve a computational edge over rivals, the powers that be in the blockchain world forgot the basic principle that trends finish, things become obsolete, and even technological marvels die if they fail to get mainstream," she added.
According to Webb, TsarNetwork aims to create a highly trusted and reputable blockchain network with its focus on real-world utility through purposeful solutions designed for practical use cases.
Even after a decade of Bitcoin's launch, less than one percent of the world uses blockchain technology. When the world wide web emerged in the 90s, the internet became a global phenomenon because its adoption was simplified for the masses. However, unnecessary complications and mist around the basics of blockchain technology has confused regular people about the very concept of cryptocurrency. There is a strong need for industry experts to understand this issue and make it easier for the public. Such a development could potentially replicate the internet boom of the 90s in this 21st century.
"Emerging as the future of Custom Smart Contracts, Tsar Network is being woven as the world's first blockchain platform with a drag-and-drop contract builder," said Webb while talking about the network. "When most of the existing platforms are heavily developer-focused, we want to balance the scales by providing a platform that is both, developer-friendly and user-friendly," she added.
The key here is breaking technical barriers and unnecessary complications. To achieve this, TsarNetwork employs a zero-code approach that lets non-technical users focus on the business, not the code.
The Tsar Ecosystem is an integrated network consisting of a frontend platform for end users, a blockchain that services the platform underneath, and a utility token that enables a powerful economic model across the whole network. It is an ecosystem that empowers its users to carve their digital financial world as they see fit. Its polished, ergonomic frontend is where ordinary users will interact with the network most of the time. It is a comprehensive, all-inclusive suite of blockchain-based financial applications that are practical, affordable, user-friendly and secure.
The industry-forward interface of TsarNetwork will expedite the practical adoption of TsarChain for a diverse pool of stakeholders. It enables parties willing to enter a contract to define its scope, identify beneficiaries and transaction values, determine the nature of assets related to the contract, and support their digitization. Moreover, it will let users define the execution date and set conditional logic related to the contract if required. The on-chain digital IDs (optionally linked with real-world identities) can be used to sign the contract before it is finally pushed to the blockchain.
"Tsar is also throwing a treat at nerds by providing them with a state-of-the-art blockchain, TsarChain, that will be open for all sort of developmental activities related to both, everyday and mission-critical smart contracts," Webb added.
Following the publication of its whitepaper, TsarNetwork is now launching its own ICO for TsarToken—the fuel that powers TsarChain. It will be available for trade and use as a transactional unit for services across the platform. Moreover, Tsar supports a generous economic model of 50% revenue share with its users.
Tsar wants to move away from the current trend of technically-challenging interfaces and provide something that the non-technical public is used to interacting with, similar to interfaces on the traditional web. The interface has been designed with features of prevalent internet applications, hiding the blockchain infrastructure from the end user as much as possible. At a very high level, the frontend will present blobs or modules that can be dropped onto a canvas to design a workflow. These modules make up the contract logic, terms and conditions, and make calls to the backend infrastructure behind the scenes.
"We kept user experience at the forefront of our design and development processes when creating Tsar's interface. This will be an ongoing process as simplicity and ease of use are cornerstones of our development philosophy," said Webb.
For more information and to become a part of this emerging network, please visit the website at:
Connect with TsarNetwork
https://twitter.com/tsarnetwork
The post Why Code Smart Contracts When You Can Design Them? appeared first on Zex PR Wire.
Information contained on this page is provided by an independent third-party content provider. Binary News Network and this Site make no warranties or representations in connection therewith. If you are affiliated with this page and would like it removed please contact [email protected]