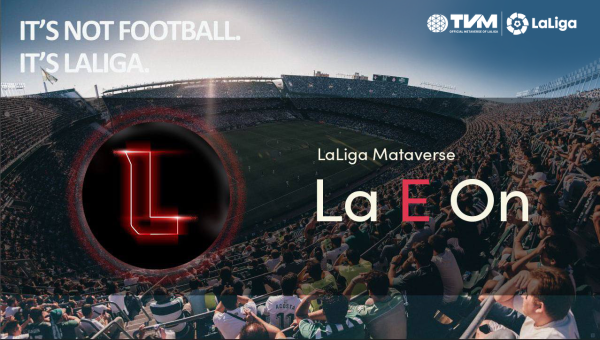 Seoul, South Korea, 28th Dec 2022 – TVM, a metaverse company in South Korea, has announced that it has begun creating LaLiga Metaverse  La_E_On(LEON) Tokens, which will serve as the primary currency and reward systems for the LaLiga Metaverse platform. This step follows as the development of the official LaLiga metaverse platform progresses smoothly for the launch schedule on H1 of next year.
TVM is one of LaLiga's +10 worldwide official partners and holds exclusive ownership of the term "Official Metaverse of LaLiga." LaLiga is the first of the world's five major football leagues to join the metaverse, and it has chosen a Korean Company, TVM, as its metaverse partner to create the LaLiga Metaverse La E On Token.
In a news statement issued in May, LaLiga and TVM stated their aim to use cutting-edge technologies like virtual reality (VR), augmented reality (AR), and extended reality (XR) to improve interaction and fan engagement with LaLiga's global fan base. The ambitious goal of "Creating the Best Digital Football World for Fans" is predicated on a wide variety of exciting "fun" elements, contents, and fan participation, such as fans' individual internet broadcasting, fun games, match result forecasting competition, fan communities, and social media features.
Usage of the La_E_On(LEON)Tokens
The La E On(LEON) tokens will be utilized as a payment tool for a broad variety of items inside the Metaverse, a fan voting tool, a player or club sponsorship tool, a streamer sponsorship tool, a contribution tool, and a rival game tool amongst club supporters.
Leo Choi, Blockchain Director of TVM, said, "Various fan events and activities, such as NFT and P2E (Play to Earn) Rewards, will accept LaLiga Metaverse La E On(LEON) Tokens as payment. We anticipate that once the platform is launched, hundreds of millions of holders, including LaLiga fans and Metaverse users throughout the globe, would rush to join. Fans of the LaLiga will be using these La E On(LEON) Tokens on the site, therefore we need to make sure everything is secure and works properly.".
LaLiga stated, "The LaLiga Metaverse will provide a platform for our global fan base to interact in a more lifelike environment, while also providing them with access to visual information like club stadiums, their cities, and famous structures. We're excited to provide LaLiga fans the best in convenience and entertainment, as well as an array of engaging material that they can engage in." 
Sisley L, CEO of TVM added "If the infinite capabilities of VR, AR, XR, and blockchain technologies are merged with LaLiga Metaverse, it will be able to deliver a wide range of events and entertainment for fans." She said, "We know that local entertainment firms with many worldwide Korean Wave followers (for K-Pop and movies, etc.) are also building entertainment-type metaverses in addition to TVM. As with TVM, this might help Korea become the center of the emerging metaverse age. As a result, we anticipate the government's increased involvement."
The global consulting company PwC predicts that the economic impact of the metaverse would reach $476.4 billion in 2025 and $1.5 trillion in 2030. After the devastating effects of the Covid-19 epidemic, prominent U.S. tech corporations including Meta (previously Facebook), Apple, Microsoft, and NVIDIA have begun making substantial investments in the metaverse. As the launch of the LaLiga Metaverse draws near, all eyes in the business world will be on the massive Spanish football league's virtual home.
 For detail, you can check out TVM Official Website. or follow us on Instagram and Twitter.
TVM : https://tvm.inc
LaLiga Metaverse Platform : https://laliga.com
SNS LINK
Instagram: https://www.instagram.com/tvm.inc/
Twitter: https://twitter.com/TVM_Incorporated
Company Website : https://tvm.inc
Media Contact
Organization: TVM Inc..
Contact Person: Hyun Joon Kang
Email: [email protected]
Website: https://tvm.inc
City: Seoul
Country: South Korea
The post TVM collaborates with LaLiga Metaverse to create LaEOn Tokens. appeared first on King Newswire.
Information contained on this page is provided by an independent third-party content provider. Binary News Network and this site make no warranties or representations in connection therewith. If you are affiliated with this page and would like it removed please contact [email protected]