Several prominent names in the crypto sector, including Avalanche, Conflux and Chainlink, are making strides in the World of Dypians. 
Bucharest, Romania, 25th September 2023, ZEX PR WIRE, The latest to join the ranks is CoinGecko, which is aligning with leading industry figures for increased engagement and education. CoinGecko has now teamed up with Dypius to lead innovations on the World of Dypians platform, a metaverse that acts as the gateway to the crypto universe. Here, players can delve into a one-of-a-kind experience, interacting with AI-driven NPCs.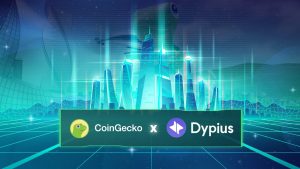 A Fresh Alliance in the World of Dypians
The partnership between Dypius and CoinGecko is carving out an exceptional virtual realm. Within the World of Dypians, the CoinGecko Area is a highlight, boasting advanced AI-enabled NPCs that provide players with a deep, immersive experience. Beyond being a zone of entertainment, the CoinGecko Area is also a hub for education. Players can learn about CoinGecko, its recent updates, services, products, and real-time data. The zone perfectly blends education with entertainment.
The excitement is palpable with the upcoming CoinGecko Special Event. Scheduled from September 25 to December 24, this limited-time in-game event offers players unique activities over an extended duration. But it's not all about fun and engagement. Participants have a chance to win $BNB from a dedicated $10000 reward pool. Beta pass NFT holders get exclusive access to this event and can enjoy various platform benefits.
How to Get Onboard the World of Dypians
World of Dypians offers a golden chance to join numerous distinguished crypto projects. This groundbreaking platform invites businesses and projects to establish their footprint in the metaverse and connect with an international community. Those interested can reach out to World of Dypians at [email protected] or use the website's contact form. The World of Dypians team is keen to onboard new endeavors into their expanding circle.
Utilizing the World of Dypians, enterprises can boost their crypto visibility and tap into a vibrant community of like-minded enthusiasts. The platform promotes collaboration, allowing businesses to broaden their industry influence. Furthermore, World of Dypians offers a myriad of virtual worlds for users, combining business visibility with entertainment.
About Dypius
Dypius stands as a powerful decentralized ecosystem focusing on scalability, security, and global adoption. It offers a spectrum of products and services suited for both crypto newcomers and veterans, including Earn solutions, analytical tools, NFTs, Metaverse, and beyond. A diverse team of global experts drives Dypius, with their expertise spanning crypto, business, engineering, and finance. Transparent profiles of each team member are accessible to all.
The World of Dypians unveils a gaming metaverse full of potential. Players can explore infinite landscapes, crafting tools and armor to aid their adventures. The game allows for unparalleled customization, enabling players to design gears, tools, weapons, and skins.
The world within the game keeps expanding with newly found areas. As players journey on, fresh regions become accessible for exploration and creation. It also promotes community interactions, from forming clans to completing quests, trading items, and much more. The potential for collaboration knows no bounds.
With CoinGecko's entry, Dypius remains at the forefront of metaverse innovation. This collaboration marries two industry giants, promising players an unparalleled experience that fuses entertainment, learning, and rewards.
For those eager to delve deeper into this project, they can visit the official websites of Dypius and the World of Dypians. For ongoing updates, their social media platforms include Twitter | Telegram | Discord | Instagram | Medium | YouTube | and LinkedIn.
The Post CoinGecko and Dypius Partner to Build and Pioneer Innovation on the World of Dypians first appeared on ZEX PR Wire

Information contained on this page is provided by an independent third-party content provider. Binary News Network and this Site make no warranties or representations in connection therewith. If you are affiliated with this page and would like it removed please contact [email protected]