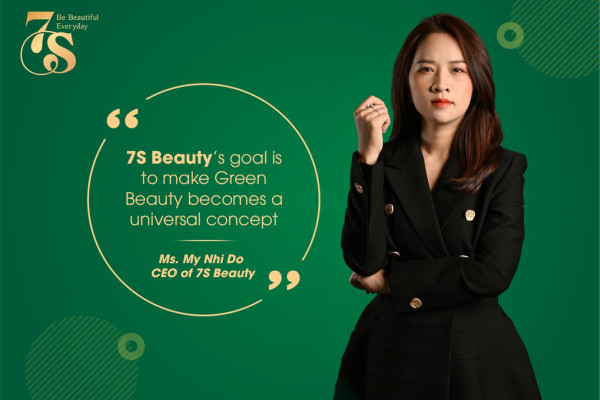 Paju-si, Gyeonggi-do, South Korea, 22nd Nov 2022 – Recently, 7S Beauty – a pioneering startup in the Asian natural cosmetics market has made a statement to make 'green beauty' becomes a universal concept. Experts expect this startup to make a mark on the global cosmetics market.
The evolution of the natural cosmetics market
As the trend of using natural, eco-friendly products spreads throughout the global market, the interest in natural and organic cosmetics is also increasing. A report from GVR shows that the market size of natural skin care products reaches $7.3 billion by 2021. Many other online surveys have shown that consumers tend to search for cosmetics labeled 'organic' instead of regular cosmetics.
Not only the sustainable benefits of natural products, but the eco-friendly philosophy of the manufacturers also have a profound influence on consumer behavior. Accordingly, leading corporations in the beauty industry in Europe such as Procter & Gamble (P&G), Estée Lauder Inc, and Unilever have rapidly innovated their business strategies by launching natural, organic products, and promote environmental protection factors that help them penetrate the natural cosmetics market.
In Asia, the trend of 'green beauty' first exploded in the K-beauty market and quickly spread to the entire region. 'Green beauty' encourages consumers to use chemical-free beauty products, attracting the attention of young people, especially millennials. As a result, many startups have successfully launched their brand of natural, organic, or vegan cosmetics. 7S Beauty is one of the typical startups widely known with the ambition to make 'green beauty' becomes a universal concept.
Asian startup hopes to make a story in the global natural cosmetics market
7S Beauty is a company with many years of experience in the field of providing beauty and healthcare products in Asia. All 7S Beauty products are announced to be of natural origin, with benign ingredients extracted from rich and rare Asian plants such as ginseng, tea tree, and wormwood… Produced in qualified high-tech factories, high-quality products are immediately supplied to thousands of 7S Beauty dealers and chain stores in 11 Asian countries.
According to Mr. Lee Jong Ho, Co-founder & COO of 7S Beauty, who has thirty years of experience in the field of international trade, the outstanding feature of 7S Beauty products compared to other products on the market is the sustainability of each product. Mr. Lee said that the four factors that make up the above sustainability include: natural origin, highly qualified human resources, R&D and standard factory, and a wide distribution system. "One of our strengths is that we develop a competent platform for effective product delivery. We are going to standardize and pass on all of the strategies and abilities of successful models by using an exceptionally user-friendly and straightforward e-learning system that anybody can pick up and use. Because we want our agents and managers to be as productive as possible, we give them the most cutting-edge CRM, DMS, and activity management solutions available".
The young CEO of 7S Beauty, Ms. My Nhi, is the guarantee for the high-quality human resource factor of this startup. Ms. My Nhi was honored among the top 20 young entrepreneurs in Vietnam in 2018. She also participated in the management of startups such as Wholesales World, Big Fund, and SAM.VN. With many years of experience in managing the leading cosmetic processing factory in Vietnam and operating experience in the field of marketing and e-commerce. Ms. My Nhi has always been dedicated to providing the best products of natural beauty, and healthcare products, to improve the quality of life for Asian women in particular and global consumers in general.
This startup is also trying to find partners to expand the market. "7S Beauty's goal is to make 'green beauty' becomes a universal concept," said Ms. My Nhi, adding that 7S Beauty is willing to cooperate and support other startups to promote their products and brands to the international market.
Media Contact
Organization: 7S Holding
Contact Person: Lee Jong Ho
Email: [email protected]
Phone: 010 52872107
Website: https://7sbeauty.com
Address 1: 91-6 Odo-ro, Paju-si, Gyeonggi-do, Korea
City: Paju-si
State: Gyeonggi-do
Country: South Korea
The post 7S Beauty – Making Green Beauty Becomes A Universal Concept appeared first on King Newswire.
Information contained on this page is provided by an independent third-party content provider. Binary News Network and this site make no warranties or representations in connection therewith. If you are affiliated with this page and would like it removed please contact [email protected]