With the official launch of the MAP token, users can now buy, sell, and trade properties in the digital world created by 4DTwin Maps. The $MAP token can be bought from Sphynx by exchanging BRISE tokens. Users can easily interact and transact with their properties in the metaverse and indulge in real-life activities while earning their property revenue. The platform leverages advanced mapping technologies and techniques to create a high-fidelity representation of the world, giving it a digital look.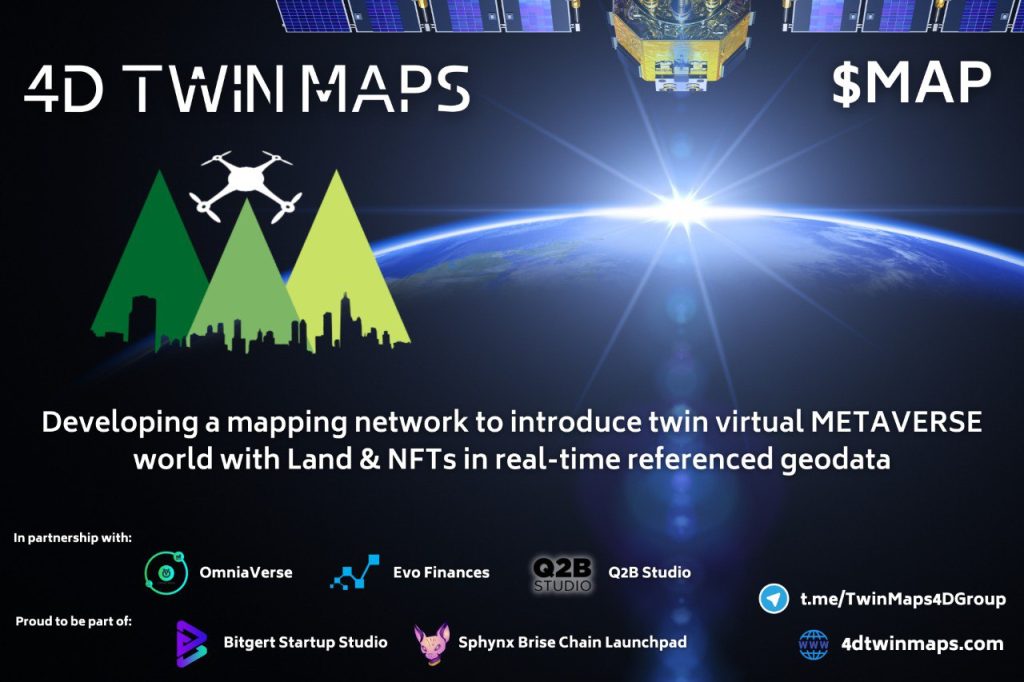 Geo Data NFT Creation and Web 3.0 Metaverse
Users can sell, buy and rent properties into the metaverse with the latest topographic and surveying technologies while connecting it to the blockchain. The properties will be minted as NFTs, and the users will be able to work with them as required. Even better, 4DTwin Maps has connected with sensors and analytical technologies across the globe to create accurate representations for the community. 
The users can trade NFTs of 3D scanned objects and properties while trading them with the users on the platform. It can also obtain NFT of geodata like 3D buildings and aerial imagery, which can be claimed by MAP token holders. 
Interactive Mapping and Services
The mapped surface can be used by professionals for data analysis to build projects, plan smart cities, and work on theories of urbanism. The same 3D representation can also be used for mapping and localization services. The users can also use the data for social interactions in the metaverse and activities like advertising, business presentations, and 3D object arts. 
The purpose of these activities is to create a digital twin metaverse of worldly elements like land, buildings, and interior objects. With accurate georeferencing, 4DTwin Maps aims to create an explorable metaverse game that also has avatars and real-life-like interactions. 
There will be three kinds of maps in the 4D Twin Maps world, 2D, 3D, and Immersive offering a unique experience to the community and hyper-connectivity with the digital world. 
Partnerships with Established Platforms 
4D Twin Maps has got into partnerships with some established platforms for different purposes. Their association with Q2B Studio is done for impressive graphic designing. The same with Evo Finances is done to provide education for the metaverse and bring awareness to the community. 
Also, 4D Twin Maps has partnered up with BitGert to raise awareness about the startup project, and Omnia will help with staking and NFTs. 
To Sum it Up
4D Twin Maps is creating a digital representation of the world with advanced mapping techniques and technologies. The users can own properties, land, and other objects, buying them with MAP tokens. They can also sell and rent their belongings in the metaverse. There will be a public space viewable by everyone and a private space viewable only by the owners. The users engaging with the 4DTwin Maps world will experience a connection between the digital and real-world represented with the metaverse technology. 
Media Contact
PR – Cryptoshib.com
Email – [email protected]
Information contained on this page is provided by an independent third-party content provider. Binary News Network and this Site make no warranties or representations in connection therewith. If you are affiliated with this page and would like it removed please contact [email protected]