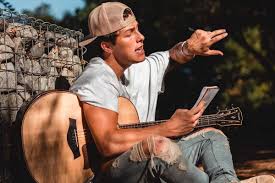 Nashville, Tennessee, 9th May 2023, ZEX PR WIRE, Tayler Holder, the breakout country music star and Country Music Next Up Artist, has just been featured on CBS Austin, where he discussed his new single "Marry You," as well as his plans for the CMT Music Awards. The Texas-born singer-songwriter is quickly becoming one of America's hottest new musicians, with millions of fans across the country including more than 20 million followers on TikTok.
When discussing the CMT Music Awards, Tayler Holder said that in addition to seeing many of his friends perform during the show, he was most excited about his "mom getting to walk the red carpet" with him. Holder related that his mom has been his biggest supporter and has been at every show, but that the CMT Music Awards would be their first chance to really do something together in a long time. 
He also talked about his new single "Marry You." Talyer Holder said that at the time he originally wrote the song it was about someone that he thought he could spend the rest of his life with, and since "the first time" he met her, felt like it was someone he was falling in love with. When asked whether he approaches songwriting as telling tales or more personal-based, Holder replied, "Mainly everything I write is from personal experiences. Whether that's life stuff going on, relationship, whatever it might be. Recently, I was talking with Luke Combs and he told me that I need to write about not only what I'm going through but also what other people are relating to. So I started incorporating that advice because you are also writing to your listeners as well."
Holder also discussed his new focus on country music, relating that previously he had dabbled in R&B and pop music while living in Los Angeles, but that he has really found his home now that he lives in Nashville, Tennessee. One of the things he values most about country music is the ability to tell authentic stories. Tayler also talked about the joys of collaboration, citing the work he had been able to do with Reyna Roberts, whom he has known since he was fifteen years old, on "Another Round," as well as working with Ashley Cooke for "Back in the Saddle." 
Tayler Holder also expressed his admiration for the authenticity and relatability of his fellow artists in the country music world, saying that when living in Los Angeles, he couldn't have a moment of "just throwing a baseball" around because much of the focus was on business and how relationships could be beneficial from a professional standpoint. Whereas stars in the country music arena have been very accepting and inviting, even those whom he has looked up to for most of his life.   
On top of continuing to create lifestyle content for fans online through social media channels like YouTube and Instagram (which currently boast 4 million subscribers combined) Holder is now focusing foremost on his music career which has truly taken off lately due to widespread support from fans everywhere! From singing covers on YouTube to touring venues around America; from starring in movies to creating viral lip sync videos –Tayler Holder's rise to fame is an inspiring story showing that hard work pays off! The only question now remains: What's next for Tayler Holder?
For more about Tayler Holder, please visit: https://itstaylerholder.com/, where you can also find links to his official social media site.
About Tayler Holder
Born on August 19, 1997 in Alvarado, Texas, Tayler Holder grew up in a family that valued hard work and perseverance. His love for music began at a young age, and he quickly developed a talent for singing and playing guitar. Tayler Holder has always been an entertainer. At just 3 years old, Tayler began competing in motocross, an interest that Tayler still holds to this day, but which is more of a hobby now. After finishing high school, Tayler moved to California to follow his dream of being an entertainer. He started creating content for Instagram and Musical.ly, and his popularity quickly grew on the platforms with his viral lip sync videos and daily lifestyle content. 
With the online series DIRT, Tayler Holder then launched his acting career playing the main character Luke, who deals with love and addiction and draws on Tayler's experiences with motocross. After joining TikTok, Tayler quickly grew to millions of followers on the platform, continuing to create viral content. After collaborating with members for years, Tayler joined the Hype House for a short period in 2020. Since then, Tayler has continued to release new music and perform at live events and festivals across the country. 
Today, Tayler Holder continues to create lifestyle content for his fans on social media, but he is now focusing a majority of his energy on his music career as things are quickly taking off for this talented singer-songwriter. Having moved to Nashville, Tennessee, has helped Tayler as he focuses on his country music career. In 2023, Holder was named Male Artist of the Year and Artist of the Year by Up N Country, a well-known country music outlet dedicated to promoting the best and brightest in the genre. Despite his success, Tayler remains humble and grounded, and is grateful for the support of his fans and family. He credits his Texas roots and his love of traditional country music as the driving forces behind his success.
The Post Tayler Holder, Breakout Country Music Star, Featured on CBS Austin first appeared on ZEX PR Wire

Information contained on this page is provided by an independent third-party content provider. Binary News Network and this Site make no warranties or representations in connection therewith. If you are affiliated with this page and would like it removed please contact [email protected]